Report on the 4th Global 5G Event
The 4th Global 5G Event was held in Seoul, Korea on November 22 and 23. The Event was organized by the Korea 5G Forum. Over 300 participants from 16 countries heard discussions on the Event's overall theme "5G, Accelerating the 4th Industrial Revolution". In addition, at the beginning of the Event's second day, the 5GMF signed a MoC with Turkey's 5GTR Forum.
The 4th Global 5G Event
Date: November 22 and 23, 2017
Location: JW Marriot Hotel Seoul (Korea)
Sponsor: Korea 5G Forum
Participants: 52 moderators and panelists, including the following 6 from Japan
Mr. Gaku NAKAZATO (MIC), Mr. Akira MATSUNAGA (KDDI), Dr. Yukihiko OKUMURA (NTT DOCOMO), Mr. Takehiro NAKAMURA (NTT DOCOMO), Dr. Hitoshi YOSHINO (SoftBank), Dr. Kohei SATOH (5GMF)
Summary
– There were 315 participants from 16 countries, including those from 5G promotion organizations and government ministries of Japan, the US, Europe, Korea, China and Brasil.
– The welcoming address was given by Mr YongSoo Kim, Vice Minister of the Ministry of Science and ICT. This was followed by the keynote speech, "5G at the center of Hyperconnectivity supporting the 4th Industrial Revolution" given by the Chairman of the 5G Forum, Dr. Seong-Mok Oh, who introduced the activities of KT Corporation.
– The opening session began with the introduction of government activities related to 5G. This was followed by discussions on the issues related frequencies, where the audience learned about the difficulties involved in designating unified frequency bands globally and the expectations of multiband support from chip venders. There were also discussions on the state of activities various 5G promotion organizations are working on currently.
– The main session included three panels on : 5G deployment and service plans, the current state of 5G verification trials and building cooperative relationships with relevant industries where information was discussed and shared. C-V2X was often used as an example of how verticals could utilize 5G during these presentations. There were also two special sessions. One discussed the state of international cooperation among international organizations. The other discussed 5G during and after PyeongChang Olympics, which included the current state of preparations.
– The closing remarks were provided by 5G Americas' Mr. Chris Pearson, who announced that the 5th Global Event would be held in May, 2018 in Austin, Texas.
– At the conclusion of the main program invitees were able to join an Operator 5G tour at demonstrations sites in the city of Seoul managed by SK Telecom or LG U+ as well as see what 5G services that KT Corporation plans to offered for PyeongChang Winter Olympics.
The following 5G promotion organizations organize this biannual event : 5GMF (Japan), 5G Forum (Korea), 5G Americas (USA), IMT-2020 (5G) Promotion Group (China), 5G-IA (Europe), 5G Brasil (Brasil)
Program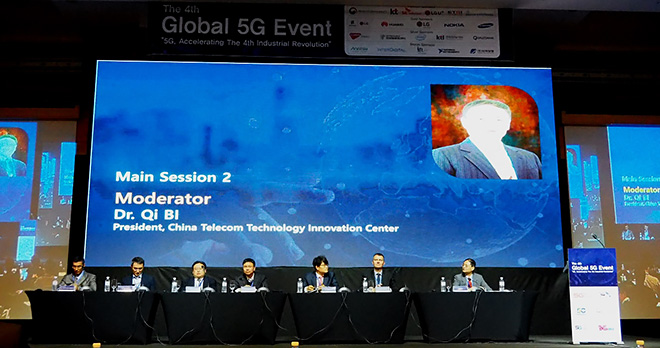 Day1 – 22 November 2017
Welcome Address: Vice Minister, Ministry of Science and ICT
Keynote Speech: Chairman, 5G Forum
Opening Session 1: Government Policy for 5G and Spectrum Harmonization
Opening Session 2: 5G Trends and Promotion
Main Session 1: 5G Deployment and Service Provisioning
Main Session 2: PoC, Trial and Solution for 5G Services and Technologies
Day2 – 23 November 2017
Main Session 3: Requirements and Expectations of Vertical and Eco-Industries
Special Session 1: Cross-Regional Activities for 5G
Special Session 2: 2018 PyeongChang 5G & Beyond
Closing Remarks:
Chairman, Executive Committee of 5G Forum
President, 5G Americas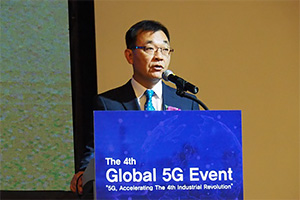 Mr. YongSoo Kim
Vice Minister, Ministry of Science and ICT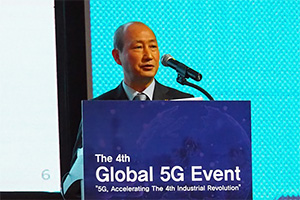 Dr. Seong-Mok OH
Chairman, 5G Forum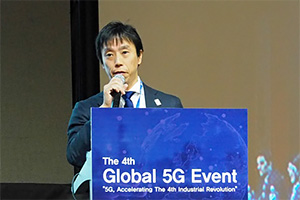 Mr. Gaku NAKAZATO
Director of New-Generation Mobile Comm.
Ministry of Internal Affairs and Communication
MoC with Turkey's 5GTR Forum
The 5GMF and Turkey's 5GTR Forum signed a MoC (Memorandum of Co-operation) on November 23 before the beginning of that day's sessions.