2018 General Assembly of the Fifth Generation Mobile Communications Promotion Forum
The Fifth Generation Mobile Communications Promotion Forum (5GMF) General Meeting for 2018 was held at the Meiji Kinenkan in Tokyo, Japan on July 4, 2018.

The Advisory Council met before the General Meeting was opened. There was a lively discussion and Q&A session following presentations on the activities of the 5GMF committees and 5G Trial groups.
The General Assembly was attended by almost 200 people, including representatives of telecommunication firms and equipment makers, university research organizations, and members of the Ministry of Internal Affairs and Communications (MIC). The meeting opened with remarks by Katsuya Watanabe, who at the time was the Director-General of the Radio Department of the MIC's Telecommunications Bureau and is currently the MIC's Vice-Minister for Policy Coordination.
Professor emeritus Susumu Yoshida, chairman of the 5GMF, discussed the business reports and settlements for the fiscal year 2017, the business plan and budget for fiscal year 2018, and officer elections. All motions as proposed were agreed to by the membership.
There was a friendly gathering held after the Meeting, Rep. Manabu Sakai, State Minister of the MIC, as a guest of honor gave some remarks to those in attendance. This gathering played a key role in providing a once in a year opportunity for participating members to interact with each other.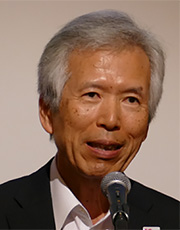 Professor emeritus Susumu Yoshida (Kyoto University)
Chairman, 5GMF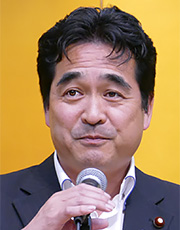 Mr. Manabu Sakai
State Minister for Internal Affairs and Communications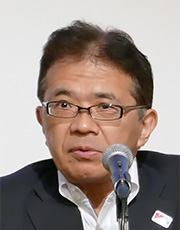 Mr. Katsuya Watanabe
Director-General of the Radio Department of the MIC's Telecommunications Bureau
(Current Vice-Minister for Policy Coordination)