Report of 5G International Symposium 2019
The livestream of the event is available on our VOD site. The website is in Japanese but the presentations and panels on day two include English and Chinese interpretation. If you are interested, please click the link below.
URL:https://5g.bitmedia.ne.jp/movie/
The Ministry of Internal Affairs and Communications (MIC), with the cooperation of co-hosts The Fifth Generation Mobile Communications Promotion Forum (5GMF) and the Association of Radio Industries and Businesses (ARIB) and support from The Telecommunication Technology Committee, organized the 5G International Symposium, with them theme of "5G transforming People, Things and Society" which was held on January 29 and 30, 2019.
The symposium included presentations to increase the awareness about the results of the MIC organized "5G Field Trials", which began last year, and panel discussions with partners collaborating on the trials under the theme of regional revitalization and the international development of 5G. In addition, the winners of the MIC's "5G Utilization Idea Contest", which was held on January 11, also gave presentations.
While the symposium was ongoing there were exhibitions and demonstrations related to the 5G Field Trials held next to the symposium hall in order to give attendees a first-hand experience of a world where 5G is realized.
Over 1000 people attended the conference, including 31 participants from six countries and regions in Asia (Thailand, Turkey, Indonesia, Malaysia, Taiwan, Korea) as well representatives of government ministries, universities, and companies from France that have an interest in 5G. The conference had a true cosmopolitan feel due to their participation.
Date: Tuesday, January 29 to Wednesday, January 30, 2019
Place: Tokyo International Exchange Center Plaza Heisei
Attendees: about 1000
2. Symposium Overview
The symposium was opened with greetings by Yukari Sato, State Minister for Internal Affairs and Communications, on behalf of the organizers, followed by a keynote speech by Dr. Susumu Yoshida (Emeritus Professor, Kyoto University), Chairman of the 5GMF.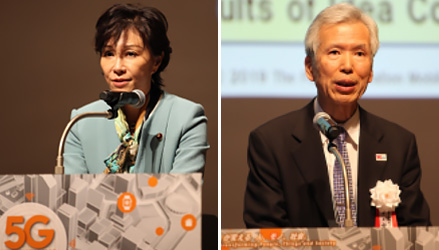 (1) Part 1: Regional Revitalization and Partner Cooperation
Ideas on how to utilize 5G to solve regional problems as well as contribute to progress of regional areas.
Following an overview of the "5G Utilization Idea Contest" by Gaku Nakazato, the Director of New Generation Mobile Communication Systems Promotion Office, Ministry of Internal Affairs and Communications, the contest winners introduced their ideas, as noted below. After their presentations Fumiaki Kobayashi, former Parliamentary Vice-Minister for Internal Affairs and Communications, provided some remarks on larger meaning of this contest and expectations for future activities related to the development of 5G.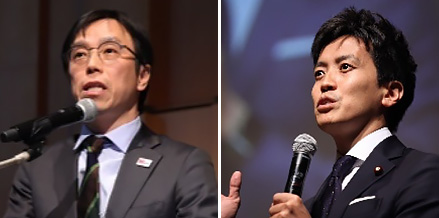 ・ Ministry of Internal Affairs and Communications Award "Improvement of working environment for highly skilled workers utilizing 5G characteristics, realization of labor safety, realization of technology transfer"
Ehime University Graduate School of Science and Engineering Distributed Systems Laboratory
・ Local problem solution award "Measures of near-future snow damage that enables simultaneous multiple connection and low delay"
Eiheiji Town General Policy Division
・ 5G Characteristics Application Award "Realization of mountaineer discovery / space sharing function in mountain climber watching system"v
Mr.Yasushi Fuwa
・ Judge's special award "watching 5G sports that brings a new sense of unity"
Mr.Tatsuki Kubo
-Judge's Special Award "Protection against harmful birds and birds by transferring 5G large-capacity data of wide range simultaneous sensing video"
Okinawa Enetech Co., Ltd.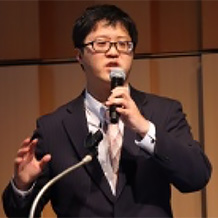 [Special lecture] "Organizational strategy and the utilization of IoT / AI in the age of 5G"
Media Sketch Co., Ltd. President Director Takashi Imoto discussed how he had expected that IoT and AI will be used solve various problems, but that when 5G is introduced alongside these new technologies it will bring new possibilities of high value new services (applications). He also discussed the potential for new value to be created by taking advantage of 5G's characteristics in order to change the system configuration of IoT devices from a centrally managed one to one that uses a blockchain infrastructure.
[Panel discussion] Organizational strategy and the utilization of IoT / AI in the age of 5G
Moderator: Gota Iwanami President and CEO, Infocity Inc. (5GMF Application Chair)
Panelists Shingo Otomo (Cyber Z), Kazuyuki Kimura (KOMATSU), Yasunori Sueyoshi (Kubota) and Sadao Tanaka (SECOM) each gave a presentation on their company's efforts and expectations on for use cases for 5G. After the presentations were completed, The panelists discussed issues such as overall telecommunications costs, early service areas, costs related to the transition from currently systems to 5G, including system coexistence as well as switching costs in transition from conventional systems to 5G. Panelists also shared their thoughts on the level of interests on the expectations for 5G and collaborative opportunities related to 5G.

(2) Part 2: Results of the 5G Field Trials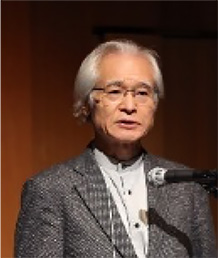 The moderator of this discussion, Fumiyuki Adachi, Specially Appointed professor (research) and Professor Emeritus at Tohoku University, provided an overview and discussed the importance of the 5G Field Trials, followed by the following presentations by the directors of each trial.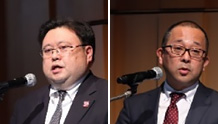 ・ "Field trial of ultra-high speed communication in an outdoor environment using 5G"
Dr.Yukihiko Okumura, NTT DOCOMO, Inc.
・ "Field trial of a high-speed communication in a high-speed mobile environment using 5G"
Mr.Masanori Ichinose NTT Communications Corporation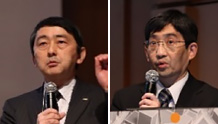 ・ "Field trial of ultra-high speed uplink application cases by 5G"
Mr. Akira Matsunaga, KDDI CORPORATION
・ "Field trial of ultra-high speed communication in indoor environment using 5G"
Hiroyuki Yokoyama, Advanced Telecommunications Research Institute International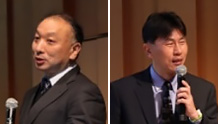 ・ "Field trial of ultra-low latency to support self-driving vehicles using 5G."
Mr. Hitoshi Yoshino, Softbank Corp.
・ "Field trial of uses of massive simultaneous connections in 5G"
Dr. Takao Okamawari, Wireless City Planning Inc.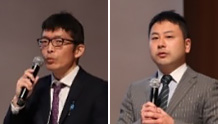 ・ "Activities related to the 5G smart office in Higashi Hiroshima City"
Kotaro Hashimoto, Head of Information Policy Section, Higashi Hiroshima City
・ "Improvement of emergency care using 5G"
Seiji Ohno, General Manager, Information Policy, Maebashi City
(3) Part 3: International Development of 5G
[Panel discussion] "5G radio wave propagation"
Moderator: Masaharu Hata, Emeritus Professor, Okayama University
The panelists, Henrik Asplund of Europe Ericsson, HyunKyu Chung of Korea Electronic Communications Research Institute, and Tetsuro Imai of NTT DOCOMO, each gave a short presentation on 5G propagations tests conducted in their respective regions, followed by a discussion on issues such as the characteristics of 5G radio wave propagation and future related research topics.
【Panel discussion】
"Japan's Challenge for 5G Global Development-What is the New Business Model-"
Moderator: Waichi Sekiguchi, editorial board member, Nihon Keizai Shimbun
Panelists appearing from six global vendors, Megumi Iwao (Samsung Electronics Japan), Keiichiro Shimada (Sony), Kenji Nemoto (Qualcomm Japan), Masayoshi Fujioka (Ericsson Japan), Mutsumi Mizuno (Fujitsu), and Nozomu Watanabe (NEC) engaged in a lively discussion from various angles on fields of cooperation and competition as well as what measures that Japan could take to regain its economic strength utilizing 5G.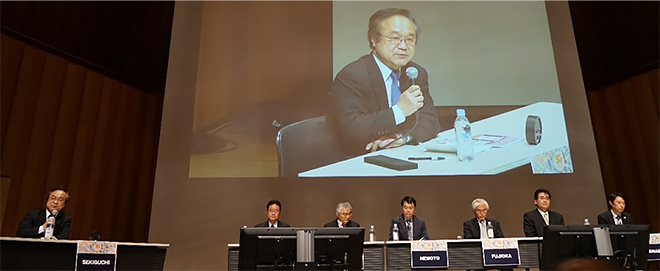 Fusaki Matsui, Secretary General of ARIB, closed the symposium with some concluding remarks.
3. Overview of the onsite exhibitions and demonstrations of the 5G Field Trials
Exhibition booths were set up in the center of the media hall, next to the hall where the symposium was held, to provide information on the 5G Field Trials.
There were also panel displays describing the winners of the 5G Utilization Idea Contest, as well as those from Nomura Research Institute and Mitsubishi Research Institute, both of which presented ideas related to the theme of establishing partner collaboration relationships with regional partners.
Many attendees visited the exhibition area who asked several lively questions.




Finally, NHK introduced the 5G international symposium and the 5G Field Trials in a segment shown on a Tokyo Metropolitan news program with the title "Our lifestyles will change?! The potential of 5G".