Report on the 5G International Symposium 2020
Japan's Ministry of Internal Affairs and Communications (MIC) hosted an international symposium on February 19th and 20th entitled "5G International Symposium 2020: Creating the Future with 5G". This symposium, co-hosted by the Fifth Generation Mobile Communications Promotion Forum (5GMF) and the Association of Radio Industries and Businesses (ARIB) and supported by the Telecommunication Technology Committee (TTC), was held in order to present the results of the MIC organized 5G Field Trials by participants from a diverse range of use fields as part of MIC's activities towards the realization of 5G in 2020.
Participants at the symposium were able to experience a future where 5G is realized through exhibitions and demonstrations of the 5G Field Trials, which helped to facilitate the dissemination of the results of this year's trials both domestically and internationally. Presentations and panel discussions with key stakeholders in the world of 5G were also held, in which ideas were discussed and opinions were exchanged that will assist in accelerating the realization of 5G.
Lively discussions were held over the two days of the symposium among the almost 1000 participants in attendance, including those from three countries and regions in Asia (Turkey, Indonesia, and South Korea) and 5G stakeholders from both universities and private industry.
Measures were also put into place to counter the spread of the novel coronavirus. These measures included emails sent to registered participations to bring attention to the situation as well as precautionary measures participants could take, the placement of alcohol based hand sanitizers at the venue along with posters explaining how to properly use them, as well as a manual created and kept on hand to provide information and protocols as to what should be done in case participants fell ill during the event.
1. Date and Location
Date: February 19 and 20, 2020 (Tuesday and Wednesday)
Location: TFT Hall (Second Floor, TFT Building West Wing Ariake, Tokyo)
Presentation Venue: TFT Hall 1000、
Demonstration Venue: TFT Hall 500 and the adjacent lobby
Participants: about 920 (Day 1: 470; Day 2: 450)
2. Symposium Overview
The symposium was opened with some welcoming remarks from Mr. TAWARA Yasuo, Director-General of the Radio Department, representing the Ministry of Internal Affairs and Communications. This was followed by a keynote address by Dr. YOSHIDA Susumu, Chairman of the 5GMF and Professor Emeritus at Kyoto University.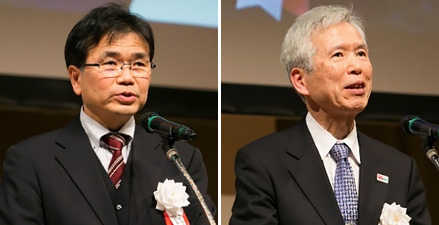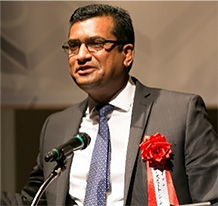 Guest Speaker 1
Mr. Sumeet Singh, vice president of Big Data, AI and Location Platforms at the American corporation Verizon, gave a presentation entitled "The 5G Revolution: Creating New Possibilities". During his presentation he introduced Verizon's 5G related activities in the context of discussions of the critical technologies of 5G, the potential to impact various businesses, the possibilities of edge computing with 5G, and the construction of the 5G platform infrastructure.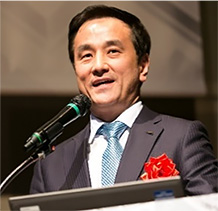 Guest Speaker 2
Yamaguchi Prefecture Gov. MURAOKA Tsugumasa gave a presentation entitled "Regional ICT Initiatives and Expectation toward 5G". He introduced issues related to the current challenges in Yamaguchi Prefecture, ICT initiatives in his Prefecture, especially the use of AI, VR, and the cloud, expectations towards 5G for providing health care such as remote medical support, and discussions at the National Governors' Association related to regional revitalization.
(1) Session 1: Achievement of 5G Field Trials
Session 1 began with 5GMF 5G Trial Promotion Group (5G-TPG) leader Dr. OKUMURA Yukihiko providing an overview the 5G Field Trials being conducted by the MIC. This was followed by the following seven presentations held over four sessions that gave more detailed information on the outcomes of the 5G Field Trials.
Moderator: OKUMURA Yukihiko, 5G-TPG Leader
Session 1
・Dr. OKADA Takashi, NTT DOCOMO, INC.
・5G Service Trials on Ultra High Bit-Rate Communication in Outdoor Environnements
・Mr. ICHINOSE Masanori, NTT Communications Corporation
・Realization of Ultra-High Speed Communication under Multiple Base Station – Multiple Mobile Terminals – Moving Environments
Session 2
・Mr. MATSUNAGA Akira, KDDI CORPORATION
・5G Field Trials Utilizing High Speed Uplink Capability with multiple base station and terminals
・Dr. YOKOYAMA Hiroyuki, Advanced Telecommunications Research Institute International
・Trials of 5th Generation Mobile Communication Systems in Indoor Environments
Session 3
・Dr. YOSHINO Hitoshi, Wireless City Planning Corporation
・Field Trials on 5G Ultra Low Latency Communication towards Autonomous Driving
・Mr. TAJIMA Yusuke, Wireless City Planning Corporation
・Field Trials for Early Introduction of 5G's Massive Simultaneous Connection
Session 4
・Dr. KITAO Koshiro, NTT DOCOMO, INC.
・Investigation of Radio Propagation Characteristics in 5G Comprehensive Demonstration Tests


Session 2: Realization of 5G service
This session's presentations provided the view of 5G services from the perspective of mobile phone operators, including the development of 5G services from the directors of individual companies and concrete plans for services and applications. This was followed by a panel discussion where ideas and opinions of the firms represented were exchanged on topics including 5G business models of the diffusion of 5G networks, progress on 5G in Japan from a global perspective.
Moderator:
・Mr. SEKIGUCHI Waichi, President of MM Research Institute, Ltd.
Panelists:
・Mr. NAKAMURA Takehiro, NTT DOCOMO, INC.
・Dr. KONISHI Satoshi, KDDI CORPORATION
・Mr. NODA Makoto, SoftBank Corp.
・Mr. SATO Yusuke, Rakuten Mobile, Inc.


Session 3: Expectation to "LOCAL 5G"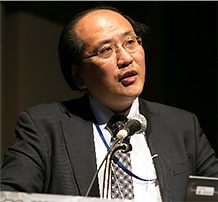 This session began with the MIC's Director of the Regional Communications Development Division providing an overview of local 5G policies. This was followed by presentations from local government officials, experts, and vendors on issues facing regional areas as well as local 5G use cases. A panel discussion was then held which included a lively discussion on the current state and way forward towards a future where local 5G is deeply integrated into regional communities, as well as issues and solutions related to the introduction of local 5G.
Moderator:
・Prof. SAMPEI Seiichi, Osaka University, Chairman of Regional Utilization Promotion Committee, 5GMF
Panelists:
・Mr. ISO Toshio, Ministry of Internal Affairs and Communications
・Mr. KISE Nobuyuki, Iwamizawa City
・Mr. KOIKE Satoshi, vegetalia, inc.
・Mr. MATSUDA Keita, Maebashi City
・Mr. KANDA Takashi, FUJITSU LIMITED (5GMF)


Session 4: Collaboration to Partner on 5G
This session began with presentations by key decision makers in the fields of media, MaaS, AR / e-sports and settlement services on the progress and expansion connected to the ultra-high speeds, massive multiple connections, and ultra-low latency that is being realized by 5G. This was followed by a thorough discussion on how issues can be resolved as well as what services will look like in the near future from the unique view of the different fields represented by each panelist.
Moderator:
・Mr. IWANAMI Gota, President of INFOCITY, Inc., Chairman of Application Committee, 5GMF
Panelists:
・Mr. KOIKE Masahide, Managing Director, CyberAgent, Inc. / Director, AbemaTV, Inc. [Media]
・Mr. NARISAKO Takeshi, General Manager, Digital Innovation Dept., Mobility Electronics Business Group., DENSO Corporation [MaaS]
・Mr. FUKUDA Hiroshi, CEO, meleap inc. [AR / e-sports]
・Mr. YANASE Masayoshi, Business Operations Office Senior Manager, PayPay Corporation [Settlement service]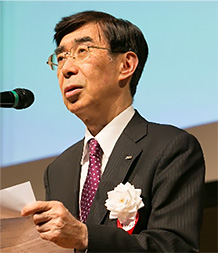 The symposium was concluded following remarks by Mr. HOSHI Katsuaki, Chief of the Development Center of ARIB.
3. Overview of the 5G Field Trial Demonstration and Exhibition Area
Next to the main presentation hall exhibition booths were set up to provide information on the results of the 5G Field Trials that began in 2017 and use models that emphasized how 5G could be used to solve regional issues which were based upon the results of the 5G Ideathon that was held in January, 2019. Gov. MURAOKA Tsugumasa and Director-General TAWARA Yasuo, along with many other participants at the symposium, viewed the exhibitions and were seen asking many lively questions while there.